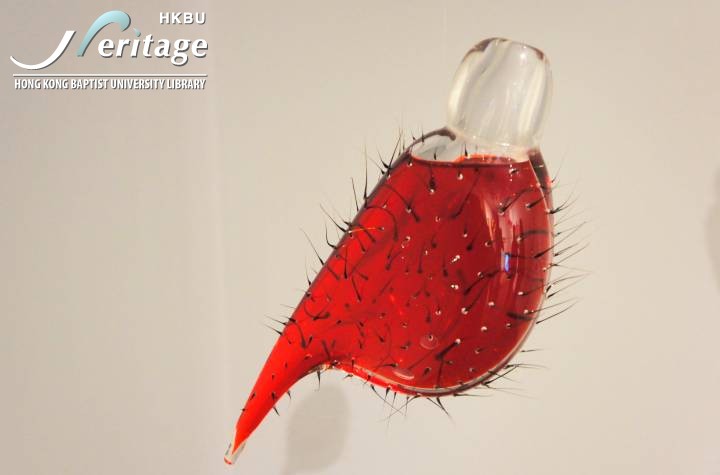 Yeung, Pik Ki Jovial
2012
Academy of Visual Arts
BA (Visual Arts)

Various dimensions
4417 View

Glass, Blood


ART FORM :

Glass / Ceramics
Installation

THEME OF DESIGN :

Personal Feeling


SUMMARY :
I hate mosquito because they always wander around, disturb me, and even audaciously insert their organs into my body to suck my blood! Through the process of glass blowing with such high-temperature of 1200°C, I vent out my anger and project my intention of revenge into the flame!
In this installation, the usage of bloody red and chilly black emphasizes my feeling towards them; meanwhile, light and shadow enhance the annoyance brought by their erratic movement. Furthermore, pieces are hanged and swing in the breeze, which brings out visual impact of my fear and worry towards their existence.

(The text is provided by the student)


HOW TO CITE
APA :
Yeung, Pik Ki Jovial. (2012). Revenge No.2. Retrieved from HKBU Heritage:
http://heritage.lib.hkbu.edu.hk/view.php?id=10611

MLA :
Yeung, Pik Ki Jovial. "Revenge No.2". HKBU Heritage. HKBU Library, 2012. Web. 20 Sep. 2020.
<http://heritage.lib.hkbu.edu.hk/view.php?id=10611>.

● Persistent link: http://heritage.lib.hkbu.edu.hk/view.php?id=10611
● XML Dublin Core code for metadata harvesting
● Go to the full record in the library's catalogue




This production is presented here with the permission of the producer and/or the corresponding academic department concerned.
Any non-personal uses, downloading, storage, reproduction, or redistribution of any of these videos/images/files/content is strictly prohibited.
HKBU and its Library assume no responsibility for the information presented and materials used in these productions. Go to Full Copyright Note.