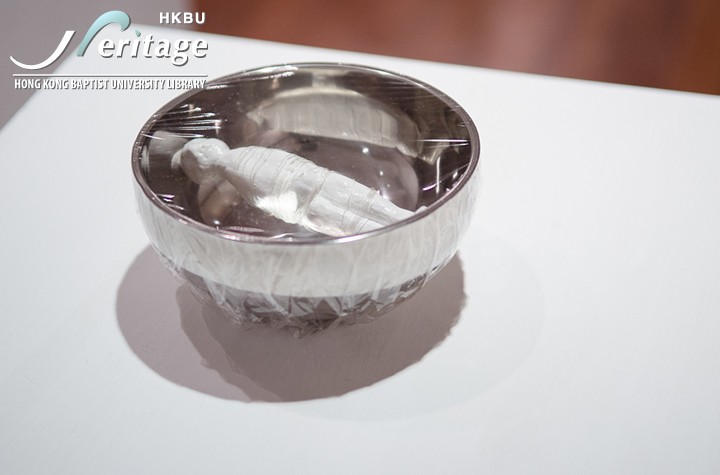 Wong, Ka Yan
2014
Academy of Visual Arts
BA (Visual Arts)

13.5 x 13.5 x 6 cm (each piece)
4680 View

Mixed-media


ART FORM :

Sculpture

THEME OF DESIGN :

Personal Feeling


SUMMARY :
Station-Lost: Sometimes, I sink. I just want to hide myself and get away from everything. If you are here, please save my broken heart. Let me feel your existence and take me out on the water.
Station-Be found: I should be patience, and keep waiting. Miracles will be happened in one day. Silent prayer can get answered.
Station-Be built: Dear holy father, you raise up my soul, and make me strong. I am preparing myself to be an operable, precious vessel, and fill with holy life.

(The text is provided by the student)


HOW TO CITE
APA :
Wong, Ka Yan. (2014). Untitled. Retrieved from HKBU Heritage:
http://heritage.lib.hkbu.edu.hk/view.php?id=10820

MLA :
Wong, Ka Yan. "Untitled". HKBU Heritage. HKBU Library, 2014. Web. 26 Nov. 2020.
<http://heritage.lib.hkbu.edu.hk/view.php?id=10820>.

● Persistent link: http://heritage.lib.hkbu.edu.hk/view.php?id=10820
● XML Dublin Core code for metadata harvesting
● Go to the full record in the library's catalogue




This production is presented here with the permission of the producer and/or the corresponding academic department concerned.
Any non-personal uses, downloading, storage, reproduction, or redistribution of any of these videos/images/files/content is strictly prohibited.
HKBU and its Library assume no responsibility for the information presented and materials used in these productions. Go to Full Copyright Note.